Happy Hour
4:30-6:30 pm Monday-Friday
Enjoy 1/2 off beer, wine and cocktails
Joey Two Times
Boyd & Blair Vodka, Cointreau, Cidergeist Rosè Bubbles Cider, lime, simple syrup, cranberry
No Mistakes Just Happy Accidents
Effen Cucumber Vodka, Ketel One Vodka, St. Germain, lime, soda
High School Prom King
Coconut Fat Washed Appleton Reserve Rum - Campari - Giffard's Vanille de Madgascar - Joseph Cartron Banane - Angostura Bitters, lime, pineapple
Oui, Chef
Beefeater Gin, Combier de Mure, lemon, pomegranate, soda, smoked rosemary
The Dark Side
Sage Infused Cimarron Reposado Tequila, Peychaud's Bitters, sage syrup
Middle Names Don't Matter Price
Beet Infused Banhez Mezcal, Chambord, Green Chartreuse, lime, olive oil
Benito Bonito
Pineapple Infused Maggie's Farm Dark Rum, Averna, Cardamom Bitters
Peace, Love & Mal País
Pitu Cachaça, Marie Brizard Pear, lime, cinnamon
Premature Burial [barrel aged]
Big Spring Seven Governors' Gin, Atxa Vino Vermouth Bianco, Yellow Chartreuse, Orange Bitters
BangARang! [on draft]
Maggie's Farm Dark Rum, Lavender Bitters, banana, lime, honey
The Venice Beach Old Fashioned
Russel's Reserve 10 Year Bourbon, Cranberry Bitters, apricot
200 Children's Way Pittsburgh, Pennsylvania
On Draft
Happy Hour is Monday – Friday, 4:30-6:30 pm and includes all glasses of wine, beer and cocktails!
Kamptal Zweigelt Rose
Zardetto Cuvee Sparkling
Chateau Tassin Bordeaux Blanc
Laberinto Malbec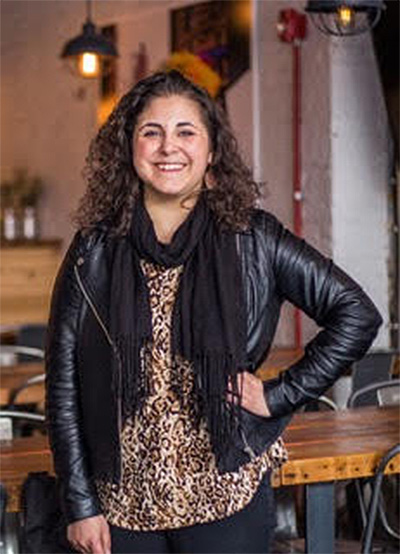 Cat Cannon joined the Smallman Galley bar team one month after the restaurant incubator opened in December 2015 after closely following the development of the project. Cat is excitingly growing along with the company as she will be managing the bar program of the company's second venture, Federal Galley.
Cat returned to her hometown of Pittsburgh in 2013 after leaving a career in broadcasting on the east coast. She began building her bar career after discovering the world of craft cocktails during the beginning of the restaurant and bar revolution taking her birth city by storm.
Cat has worked behind the stick at Harvard & Highland (now closed), Wallace's Tap Room inside Hotel Indigo Pittsburgh East Liberty and Miracle on Liberty (the Christmas Pop-up Bar downtown).
In addition to her normal "9 to 5", Cat works connecting her professional life with charity. She has held multiple personal tip drives, guest bartended and created cocktail competitions to raise money and awareness for various local and national organizations. Cat also serves as the Secretary of Pittsburgh's United States Bartenders' Guild Chapter and has been accepted to multiple national bartending programs, including the prestigious Cocktail Apprentice Program with Tales of the Cocktail, Camp Runamok and Behind the Barrel.
Cat holds a bachelor's degree in Broadcasting, Telecommunications and Mass Media from Temple University and became a social media phenomena when she spent 100 Days in 2016 eating a different taco every day.