Salsa Roja & Chips
$6.00
Tomatoes, serranos, cilantro, white onion, lime, garlic salt. Mild to medium heat
Chile Con Queso & Chips
$8.00
White cheddar, Velveeta, beer, tomatoes, onions, serranos
Guacamole & Chips
$10.00
Avocados, tomatoes, serranos, onions, lime, garlic salt
Tres Lagunas
$15.00
A trio of our house-made guac, salsa Roja and chile con queso. Served with tortilla chips
Nachoooo
$16.50
Mountain of tortilla chips, choice of protein, ranchero beans, white cheddar, Hatch green or red chilé, pico de Gallo, guacamole, sour cream & garnish (serrano, cilantro, pickled red onion)
Quesadilla
$16.00
12″ flour tortilla, white cheddar, choice of protein, choice of salsa Roja or salsa Verde, pico de gallo, guacamole & sour cream. Served with Spanish rice and ranchero beans
Burro
$16.00
Giant flour tortilla wrapped around choice of protein, home fries, ranchero beans, & choice of Hatch red or green chilé, white cheddar, sour cream, and pico de Gallo. Choice of smothered or hand-held
Guaco-Tacos
$15.00
3 tacos include choice of protein, choice of corn or flour tortilla, guacamole, house-made salsa, white cheddar, garnish (serrano, cilantro, pickled red onion). Served with Spanish rice and ranchero beans
Burro Bowl
$15.50
Choice of protein layered on home fries & ranchero beans smothered in choice of Hatch red or green chilé, white cheddar, pico de Gallo, sour cream & pickled red onions
Enchilada Guapa
$15.00
Stacked enchilada, choice of protein, choice of New Mexico red or green chilé, white cheddar. Garnished with sour cream, pico de Gallo, pickled red onion & serranos. Served with home fries and ranchero beans.
Kids Quesadilla
$8.00
Cheese quesadilla served with Spanish rice
Kids Burro
$10.00
Bean & cheese burrito served with Spanish rice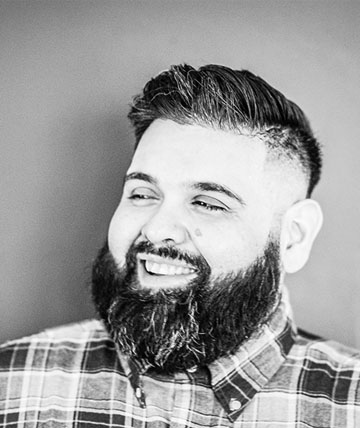 George grew up running an old-time general store in Pecos, New Mexico with his family where he prepared daily specials for the lunch crowd utilizing traditional northern New Mexican recipes. This was a formative experience for George and he treasures the community and relationships that grew out of his family's business. When George was hired out of law school to come to Pittsburgh for work, he realized how special Pittsburgh is and immediately wanted to share his home cuisine with his new friends, family and community. Inspired by the do-it-yourself attitude of his new home, George decided to leave his corporate job behind and open Guapo to cultivate the same relationship with the Pittsburgh community that his family store had in New Mexico and to share his beloved cuisine with his new neighbors.