Starters
Pretzel Bites
$9.00
15 house-made pretzel bites, pimento cheese dip
Mushroom Fritters
$12.00
4 fritters, spicy tomato sauce w/ sausage
Hummus Plate
$11.00
Roasted baby tomatoes, cucumbers, shaved parm, fried pita, hard-boiled egg
Roast Chicken Wings (6 or 12)
$7.50/$15.00
Marinated wings, pickled veggies, and house sauces.
Toss: Honey Mustard, Mild or Hot
Side: Blue Cheese or Ranch
BYO Salad w/ 4 Toppings
$10.00
Mixed greens, choice of dressing. (Extra toppings +1)
Cheddar, gouda, parm, roasted tomato, onion, cucumber, roasted mushrooms, peppers, broccoli, fries, hard-boiled egg. Chicken +5, Beef +5, Steak +8, Fried Egg +2. Choice of ranch, blue cheese, red wine tomato vinaigrette, 1000 island, mustard vinaigrette.
Pimento Loaded Fries
$10
House-made pimento cheese, bacon, jalapeño, scallion & herb sour cream. Great with an egg! +2
SANDWICHES
Roasted Pork Hoagie
$13.00
Slow roasted pork, jalapeño, cabbage, smoked mozzarella, pickled green tomatoes, crinkle-cut fries, house salad
Mushroom Bacon Swiss Chicken Sandwich
$15.00
Breaded chicken breast, roasted local mushrooms, Swiss, bacon, candied jalapeño, garlic spread, greens, crinkle-cut fries or house salad. Add an Egg +2
Pork Belly Sliders
$11.00
Local roasted pork belly, collard greens, sweet & spicy peppers, roasted plum mustard, fried onion, house pretzel bun with fried potato salad
House Rueben
$13.00
Sultry corned beef, fresh sauerkraut, Swiss cheese, 1000 island dressing, local rye, crinkle-cut fries or house salad.
Entrées
Chicken Cacciatore Mac & Cheese
$16.00
Fried chicken breast, peppers, mushrooms, pepperoni, tomatoes, parmesan, gouda, fried basil
Chef's Carbonara
$15.00
Local pork belly, egg, broccoli, parmesan, black pepper, spaghetti
Steak & Potatoes
$17.00
Seared New York strip, roast broccoli & onion, potato gnocchi, garlic cream. Add Egg +2
Pork & Pierogies
$15.00
4 potato & cheddar pierogies, roasted pork, spinach, bacon, creamed onion. Add Egg +2
Pitts-Burger Salad
$12.00
Seasoned ground beef, mixed greens, cheddar, onions, roasted tomatoes, pickles, 1000 island dressing, french fries. Add Egg +2
Sides
Side Salad
$4.00
Mixed summer greens, choice of dressing
Side fries
$5.00
Crispy steak fries, garlic oil, side ketchup
Roast Broccoli
$4.00
Roast broccoli, cheddar cheese, garlic cream
DESSERTS
Warm Maple Sticky Bun & Ice Cream
$7.00
Seasonal Pretzel Salad
$6.00
Peach Crisp & Ice Cream
$4.00
Chocolate Chip Cookie Ice Cream Sandwich
$5.00
Chocolate Chip Cookies (3)
$4.00
KIDS MENU
Chicken Tenders & Fries
$7.00
Mac & Cheese
$6.00
Veggie Cup w/ Ranch Dip
$4.00
Spaghetti with Meat Sauce
$10.00
Entrées
Dirty Dippy
$14.00
2 dippy eggs, baked with house chicken sausage, red pepper, mushrooms, roasted tomatoes, topped with gouda and served with toast
Build Your Own Omelette
$14.00
3 eggs, choice of 3 fillings, side salad, toast. (.50 extra for additional fillings)
Chicken and Waffles
$15.00
Fried chicken, waffle, chicken sausage gravy, maple syrup, 2 eggs prepared your way
Blackened Steak and Eggs
$16.00
Blackened NY Strip, 2 eggs, breakfast potatoes, mushrooms, tomato butter
Banana Bread French Toast
$12.00
Whipped cream cheese, cinnamon maple syrup, streusel crumble
Heinz Hash
$14.00
Fried Yukon potatoes, kielbasa, ham, chicken sausage, Heinz ketchup, garlic sauce, 2 dippy eggs, roasted peppers & onions
Mushroom Toast
$13.00
Local roast mushrooms, house bread, Swiss, mixed greens, herb scrambled eggs
Pastries
Maple Sticky Bun
$5.00
House-made sticky bun, add pecans for some extra love
Polish Donuts
$5.00
House-made donuts, add jam or chocolate sauce for a bit extra
Kids Brunch – $7
– Cheesy scrambled eggs, potatoes bacon
– Kids waffle, butter, maple syrup, bacon
– Bacon Mac & Cheese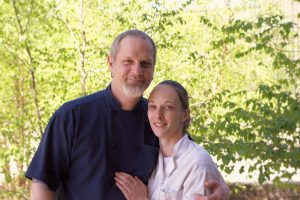 Brian and Melissa moved to Pittsburgh in November of 2016. Brian, originally from Matthews, Virginia, has spent the better half of twenty-five years in the kitchen, exploring different cuisines and classifications of cooking. Brian started out at New England Culinary Institute in Vermont where he found his love for farm to table. He went on spending some time in Colorado and Arizona where he met Melissa, then finally finding his home here in Pittsburgh. With a passion for food that is rivaled only by his daughter and other half, Brian is excited to get to better know Pittsburgh and to offer his interpretation of a love they have in common….food.
Melissa is lucky enough to call two places home; upstate New York and the Metro Detroit area. With just over fifteen years in the kitchen, Melissa has had the pleasure of working with and learning from some amazing chefs. Upon graduating from the Baking and Pastry Program from the Culinary Institute of America, where she learned from some of the only Certified Master Pastry Chefs and Bakers in the world, Melissa moved back to Michigan. She then moved and spent the next 8 years in Phoenix, honing and growing her pastry and hot side knowledge. Throughout her career, she has explored desserts from traditional to modern with some molecular gastronomy, but she mostly enjoys giving new presentations to old desserts and sweets while respecting traditional flavors.