HOW DOES FEDERAL GALLEY WORK?
Federal Galley is Pittsburgh's food hall and restaurant accelerator featuring four unique restaurant concepts. Chefs operate their restaurants rent-free and fee-free for their entire stay with us. Galley Group collects 30% of the top line revenue and in turn provides all marketing, advertising, equipment maintenance, space upkeep, and utility costs. Galley Group additionally supports the chef-owners in building their brands and encourages their future success in the industry by providing them with the resources to thrive within our walls and beyond.
HOW DO YOU SELECT THE CHEFS?
Through a thorough and rigorous process, we select concepts for our space based on uniqueness, viability, and durability. We take into consideration the extent to which each potential chef-owner has developed their brand concept, business model, and operations as well as their ties to the community and ability to staff their concepts with a strong local team. We look to create a well-rounded dining experience for our guests by selecting concepts that compliment each other and provide different styles and flavors of food to choose from and share with family and friends.
WHAT DOES A CHEF NEED TO BRING "TO THE TABLE"?
Federal Galley exists to breakdown barriers in a historically restrictive industry and serve as the launch pad for the next exciting new restaurant concepts in the city. Within our space, talented aspiring chefs and restaurateurs can launch their restaurant concept for a fraction of what it would cost to open a traditional brick and mortar. Chefs have the freedom to hire their own staff, create their own menu, and run their businesses the way they've always dreamed.
WHERE IS FEDERAL GALLEY LOCATED?
We are located on the plaza of the Nova Place campus, located on Pittsburgh's North Shore at 200 Children's Way. We are 1 block from the Children's museum and within a 5 minute walk from PNC Park, Heinz Field, and the Andy Warhol Museum.
DO YOU HAVE PARKING?
There is plenty of on-street and garage parking available. Gate 4 is the visitor lot. If you park here, simply take the elevator up to plaza level, exit through the glass doors directly ahead, and turn left. Please see the below map. Additionally, we offer valet parking right off Children's Way every Friday and Saturday evening from 6 pm – 12 am. $5 per car.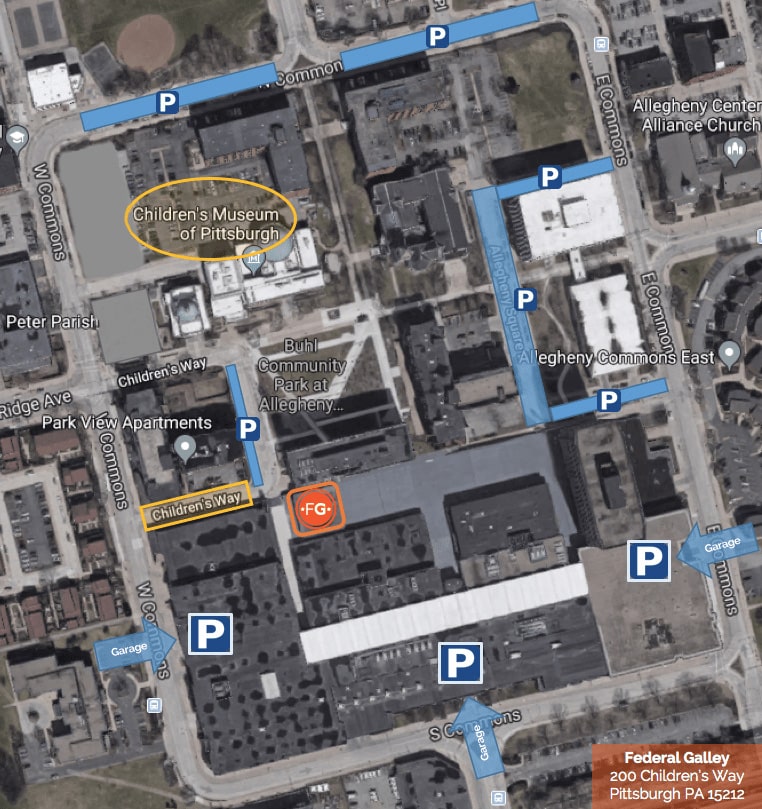 WHAT ARE FEDERAL GALLEY'S HOURS OF OPERATION?
Monday – Thursday: 11 a.m. – 9 p.m.
Friday: 11 a.m. – 10 p.m.
Saturday: 10 a.m. – 10 p.m.
Sunday: 10 a.m. – 9 p.m.
Our main bar is open during kitchen hours, extending to 10 p.m. on Monday – Thursday and 12 a.m. on Fridays – Saturdays.
ARE YOU DOG FRIENDLY?
Our patio is indeed dog-friendly! As for inside, only service-animals are permitted indoors.
DO YOU TAKE RESERVATIONS?
We do not take reservations. There is room for small and large groups in our 7,500 square foot space with communal-style tables and seating for over 200 guests.
DO YOU HOST PRIVATE PARTIES AND EVENTS?
We are currently only taking private event bookings Monday-Thursday. Please reach out to taylorb@galleygrp.com to schedule your event today!